Pre Match
Manchester will probably look like a ghost city on Saturday afternoon as local rivals Manchester City and Manchester United clash in the FA Cup Semi Final… at Wembley. The United fans will be making their ninth trip to Wembley since the stadium re-opened in 2007, while City supporters will be discovering the renovated venue.
Read more: FA Cup Semi Final Preview: Manchester City v Manchester United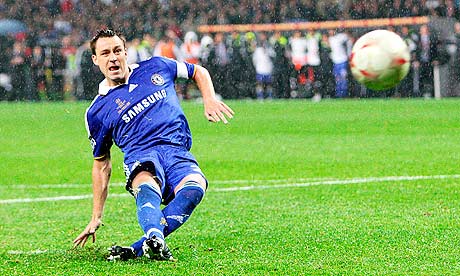 The Only Reason Why The United Fans Love Terry
It was almost dawn here in India,when finally we had a winner: an all-English game, fought in Moscow, the home town of Roman Abrahamovic.Two brave  men who people least expected to cry, wept that night: Cristiano Ronaldo, overcome by relief and joy, and John Terry, out of total despair.
Read more: Battle At The Bridge - Chelsea Vs Manchester United Preview
The F.A. Cup is back and Man Utd face Liverpool on Sunday in what could be Roy Hodgsons last game in charge. Last season Manchester United lost to Leeds in the 3rd round of the cup and Fergie is keen to make sure United don't fall at the first hurdle again. Click below to read the full FMU pre match report
Rio Ferdinand could return to the starting line-up for United's Champions League clash at Chelsea after spending the last two months on the sidelines.
Manchester United vs Valencia
Tuesday 07 November | 19:45 GMT
Manchester United will become the first team to go through the Champions League group stage without conceding a goal if they can keep a clean sheet at home to free-scoring Valencia on Tuesday.
Read more: Manchester United look to claim top spot in Group C of the Champions League