Our next opposition opinion comes from Bolton fans. Having narrowly avoided relegation, partly down to beating north-west neighbours United there is clearly a bit of a rivalry!
FMU: How do you rate your last season? -
BR: Snatched disaster from the jaws of oblivion.

FMU:. Who was your star player? -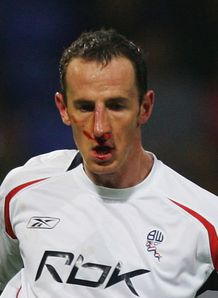 Star player: Andy O'Brien
League stats:
32 appearences
11 Cleansheets
BR: For me, Andy O'Brien. OK, my expectations weren't high when he arrived but he turned out to be colossal.

FMU: What was your view on our own season?
BR: Inescapable.
FMU: Which player impressed you most from United? -
BR: Evra. Anyone that's up for mixing it with Davies wins immediate respect, and a very skillful player to boot.

FMU: How do you see this season going?
BR: Mid-table and a decent cup run will do mighty fine.

FMU: Is there any player you would like to see join or leave your club and why?
BR: We've managed to offload everyone that I wanted us to. You should've seen some of the sh*te we had here last season. We're a cultured midfielder short of a decent set I reckon.
Thanks to Bruce Rioja from The Wanderer